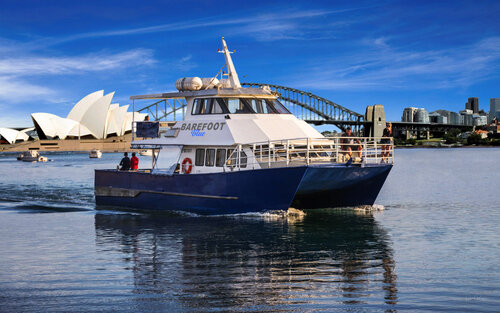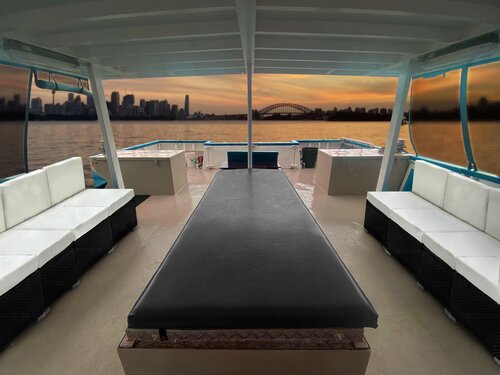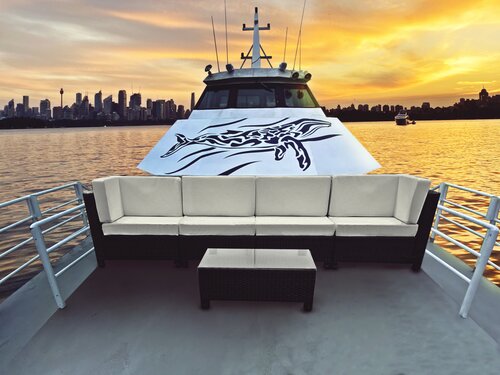 Barefoot Blue - 16ft/5m - Catamaran
Free BBQ Equipment & Service
Quality Speakers & Music System
Charter Rates Weekday - $750ph (Min 4 hours) Weekday - DECEMBER $800ph (Min 4 hours) Weekend -$850ph (Min 4 hours) Public Holiday $1000ph (Min 5 hours) (NYD/Boxing Day/Australia Day etc) NYE=$28,000 Custom-built 16 metre Super Sea Cat with three unobstructed 360 degree viewing decks complete with comfy lounges and plenty of space for all your guests to enjoy the sights of Sydney Harbour. BAREFOOT Blue can take up to 65 guests, we have facilities for DJ's, Live Music and Food Catering – Just ask Captain Dean how we can make your event an amazing and memorable day out on Sydney Harbour. Great water access with two huge duckboards on both sides and yes, swimming is encouraged. Just dip your toes or dive right in, we have plenty of water toys too.
Sydney NSW, Australia , Guest Capacity: 70
BBQ Equipment and Service
Music System and Speakers
The boat owner offers additional services you can choose during check out
Beverage Pick Up / Drop Off Fee
Public Holidays
NYD | Boxing Day | Australia Day etc
Pick-up Location
See on the Map.

Rose Bay - Lyne Park (FREE) For BAREFOOT it is the floating pontoon next to the boat ramp 100m south of the ferry wharf. Barefoot BLUE docks at the timber wharf between the ferry wharf and the floating pontoon. There is ticket parking, ferry and bus services. Cafe and restaurant. Woolloomooloo Wharf (Free) Both BAREFOOT and Barefoot BLUE will dock at the duckpond end of the finger wharfs right over the road from the Woolloomooloo Bay Hotel and next to China Doll Restaurant. There is a bottle shop across the road and this is an easy location for public transport, close to the city and great if you have arranged a bus to bring your group to meet your vessel. Lavender Bay Wharfs - Railway Av (Free) BAREFOOT will dock at the timber wharfs on Peter Kingston Walkway. Barefoot BLUE will dock on the ferry wharf or the timber wharfs depending on the tide. MAP King St Wharf - Darling Harbour & Barangaroo

With or Without Captain
With Captain

A dedicated professional Captain and Crew are available onboard

Sailing License
Not Required
Cancellation Policy

COVID POLICY: Due to the ever-changing landscape of COVID and government restrictions Boat Operator will endeavor to remain as understanding and flexible as possible so we can all enjoy a great time on Sydney Harbour. Here are some simple points regarding changes and/or cancellations. WET WEATHER: While we don't cancel if the forecast is for rain or wind, we are always able to find a nice location out of the weather on the Harbour. We will reschedule if conditions are dangerous, this is very rare and that decision is up the master of the boat on the day. We have plenty of undercover room on Barefoot and plenty of fun things to do even if it does rain during your charter. I have never had an unhappy guest on a rainy day! If vessel capacity restrictions are in effect (4m / 2m Rule) then the total number of guests aboard each vessel may have to be reduced however this is usually only a small reduction. Please take note of the COVID capacity of the vessel you are booking. If there is a stay-at-home order, lockdown or all charter operations are prevented from operating then you have the option of canceling or postponing your charter event. if you or most of your guests are in an area declared as a hotspot and a lockdown is announced then you will have the option to postpone within the first 2 days of the lockdown being declared. if you contract COVID or are declared a close contact and your instructed isolation period includes your charter date you will have the option to postpone within the first 2 days of the order or text message being received so long as full payment has been received. A postponed charter is valid till the end of that charter season (Usually 30th April). A postponed charter may not be able to be accommodated on the same day of the week or time you had originally booked. if ever in doubt please message or email Captain Dean. *Subject to change without notice, the world we live in is fluid and ever changing and so shall be the rules we live by - Please always confirm with the captain

Payment Methods

Visa
Mastercard
Union Pay
AMEX
JCB

Pre-Payment

50% pre-payment is required to confirm your booking
50% remaining balance to be paid onboard prior to departure
Yes, you are allowed to bring Food & Drink.
Children (18 or below) should be accompanied by an adult over the age of 18.
Payments can be made using our secure online payments. We accept Visa, MasterCard and AMEX credit or debit cards.
Yes, Bookanyboat.com will issue refunds based on the refund and cancellation policy set on the listing by the boat owner.
Yes, a dedicated professional Captain and Crew are available onboard.
Each listing includes the pick-up location where the boat or water experience is located.
Start time should be before End time or select correct Check-out date
No credit card required to complete the booking request